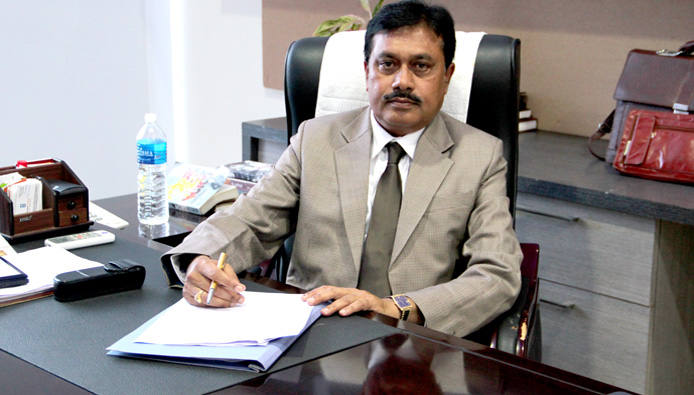 Mr.Shivajirao. D. Ingawale
Precident of Shivganga Charitable Trust, Sangli.
Each student of VTC will become a success story….
Our country has a lot of heritage and today the latest technology too is available. It is golden opportunity to grow with hand in hand and take our share in people's development.
Education would fail ignominiously in its objective if it manufactures only a robot and called him an economic man stressing the adjective economic and forgetting the substantive man. A university cannot afford to ignore the cultural aspects of education whatever studies it specializes in. Science is a means, not an end. Whereas culture need not to be end. It is our duty to fallow good things in our culture and avoid wrong one. That not mean to fallow western culture without checking its adverse effect on Indian culture which is already admirable in World. Even though you may ultimately become a scientist, a doctor, or an engineer, you must while in college, absorb fundamental values which will make you a man of culture. An engineer has not merely to build bridges; he has to be a Friend in need, devoted husband, a kind father, a friendly neighbour, a dutiful citizen, and a man true to himself. He will have trials and tribulations; his heart will fail him at times; he will then need the strength which true culture alone can give.
VTC will focus on to make our students technologically superior & ethically stronger. We strive that our students are not just efficient managers & excellent engineers, but also responsible citizens. For that VTC is run by a team of devoted, dedicated and highly qualified professionals from Academic area and Industry.
We offer a special Personality Development Program including soft skills to our students which include Seminars, Presentations, Guest Lectures, Training, Study tours, Group Discussions, Personal Interviews (GDPI) etc. We planned to give very strong industrial exposure so that our students will be employable easily in industries and research laboratories.
We always encourage students to organize some of the events so that they hone their leadership skills. We also expose them to soft skills, sports & cultural activities to express their talent & this also serves as a positive distraction. We instill & nurture their attributes to empower the young minds with competitive edge through well planned & systematic curriculum by our well qualified & experienced faculties.
I welcome you to join us & enjoy the stimulating journey which will take you towards fulfillment of your dream. Good luck & all the best!
With Warm Regards…!