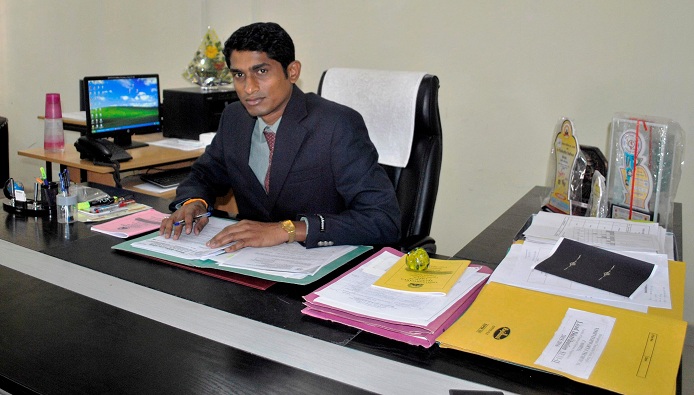 Mr. D. D. Gavali
I/C Director
B.E.(Electrical),M.E.(Electrical-Power System),
Each student of VTC will become a success story….
I am delighted on this occasion of joining of Vishveshwarya Technical Campus (VTC), Miraj. It is indeed a feather in the cap of Shivganga Charitable Trust, Miraj to open just a Third engineering college in Sangli – Miraj area in past 61 years. The first one is the pride of one and all in western Maharashtra, the Walchand College of Engineering, Sangli. We are also committed to follow the footsteps of WCE in respect of academic excellence. VTC is all set to take a giant leap forward in engineering and management education. All the human and material resources available will be best utilized to maximize students' benefits. The institute has provided up-to-date infrastructure and facilities needed by the students.
Class rooms, Laboratories, Workshop and the Administrative setup are intelligently prepared so as to have delightful ambience all over the premises. The building design is such that students, faculty shall enjoy working in a healthy environment of abundant ventilation, light and natural rsources. The students are at the centre of focus of all the developmental activities in the institute. The discipline with affection shall be the distinctive feature of the institute. Policy of motivation, accommodation, participation and support will be the basis of administration. All technical programmes are approved by AICTE, New Delhi and are affiliated to Shivaji University, Kolhapur and Maharashtra state board of Technical Education (MSBTE), Mumbai.
The teaching-learning at VTC is going to be continuous process. The process starts with the preparation of academic calendar at the beginning of every semester at the institute and department level. All the departments are blessed with well qualified and experienced faculty.
The teaching for all theory subjects is based on defined course objectives, and the course outcomes are evaluated through feedback taken from students and parents. In addition to regular theory and practical classes, compulsory tutorial /extra lecture class is assigned for all the analytical subjects to solve the technical difficulties of students. Expert lectures are being arranged at regular intervals during the semester to cover the contents beyond the syllabus in selected areas.
The faculty development programmes will be organized on regular basis with the collaboration of renowned worldwide institutions. National and International Seminars and refresher courses are frequently attended by our faculty at various campuses to explore new ideas and researches in Management and Engineering. Qualified, experienced and devoted faculty is our strength. The process of educational tie-up with some of renowned foreign universities and institutions for academic and research collaborations in respect of student/faculty exchange and faculty development is under process.
Establishment of a Central Placement Cell and Career Information Center to organize the active training and placement programmes that provide assistance and guidance to the students of Management & Engineering for placement is on anvil. The Industry experts are invited to give an insight to the expectations of professional world to the students. This institute targets establishing record of minimum 90% placements since inception. In order to improve placement ability, foreign languages will also be introduced in our campus.
We are also environmental conscious. We have planned to use maximum renewable energy resources for day to day consumption of energy. To save fuel we also observe every second and fourth Saturday as Eco-friendly Saturday. We will take care that our total campus will be full of evergreen plants.
I am sure that, with my experience and the strength of team work of faculty and subordinates, this institute will deliver world class technocrats and management professionals to the society and our country.
We always welcome new suggestions and innovative ideas to upgrade the quality of education at our institute. You are most welcomed to write us or visit our campus.